Our journey to discover women with Myclahttitude continues.
What is it? It is the natural  attitude to positive thinking, to concrete action, to the desire to do well in order to generate the beautiful and the good.
Chiara Besana was one of the most pleasant meetings of the last year. Chiara is a journalist who, like and more than me, loves Made in Italy. Every day he presents beautiful Italian fashion, food and hospitality companies on the TGCom24 blog and on his social networks. In short, a real #myclahttitude woman. We met almost by chance on social media and now every day we do not fail to say good morning. I asked her a few questions to understand her secret for that dazzling smile that always accompanies her and to let us reveal some gems near the holidays. Enjoy the reading. Claudia Gatti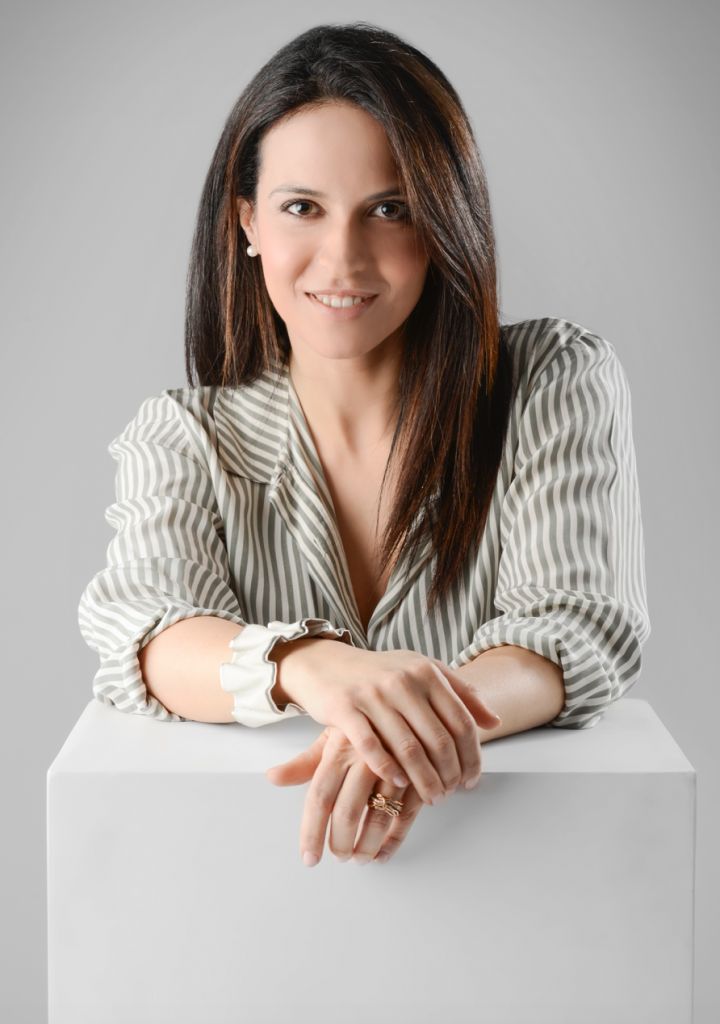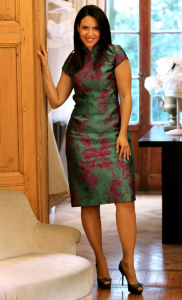 1) Chiara you are a woman of taste, always elegant and refined. I'd like to know what you were like as a child? Can you say you have made your dreams come true?
Beautiful question Claudia! I must admit that I was already like that as a child. I have always loved elegance, in form as well as in manners, and for this I must always thank my parents who educated me in beauty, but not in purely aesthetic beauty but precisely in attitude to others and to what surrounds us. I was lucky enough to experience a beautiful childhood, pampered and spoiled as an only child, but above all, thanks to my mother, who was able to cultivate the seed of wonder and imagination in me. In this way, love for books, art, writing, music and classical dance was born in me from an early age. Those dreams came by themselves and my parents deserve the credit for always encouraging them, giving me the opportunity to cultivate them with tenacity and commitment. I've always wanted to write in my life. In third grade I won a Poetry prize, in high school I started to direct the school newspaper… then as soon as I had the chance I started making my bones in the local news of Milan. A gym that I invite to all those who want to do this profession. Those who really know me know with how much effort, effort and dedication I have achieved the successes I have achieved. And I'm happy to look back and see what I've done. But as a dreamer that I am, I am always projected towards a new dream, a new project. I owe this to my dad!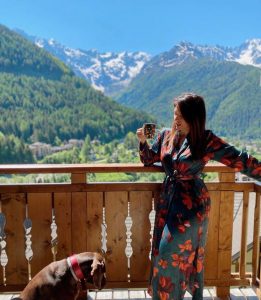 2) You are the mother of a beautiful little girl. What are the values you would like him to always keep in mind as he grows up?
The value of humility, of the commitment to pursue one's dreams with tenacity and passion and certainly that of merit, in which I believe very much despite seeing less and less around me. And then I wish you to always keep that true, spontaneous gaze that is capable of getting excited in the face of life.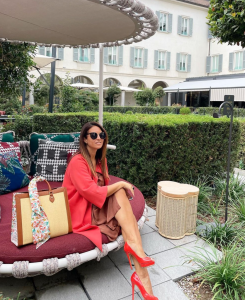 3) You are a true champion of Made in Italy. We see you a lot around Italy. For work you promote our beauties. You have a place in the heart, a sort of refuge for the soul?
It is a real privilege to be able to discover the beauty and uniqueness of our country every day. The Italy that I tell and that I experience every day in my travels and in the encounters I have manages to leave me speechless. I would like this to reach everyone and not just be a slogan. Made in Italy is truly an inestimable value and to be preserved. We must take care of it, very often know it more, discover it and value it. Of places of the soul I must say that in my travels I have found several and I feel very lucky for this. I think of places like Su Gologone in Ogliastra, where every time I wake up I am pervaded by a sense of peace and serenity. Or the view from the top of Arbatax Park, an incredible place thanks to the sensitive and unique soul of the owner Angela Scanu. And then to the Gavi hills seen from the window of Villa Sparina or to the unique warmth of the Auberge de la Maison in Courmayeur. The place of the soul par excellence, however, I must admit that it is undoubtedly Ponte di Legno, where I spent my most beautiful winters as a child, and where in recent years I have lived wonderful moments with my family. There I spent the months of lockdown and I have to thank Ponte di Legno for giving me an extraordinary serenity in a moment as complex as the one we were all experiencing.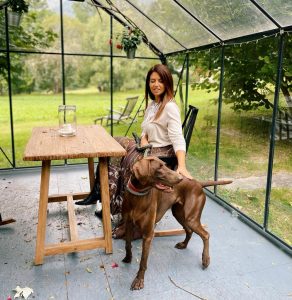 4) The Christmas holidays are approaching more and more. Give us 3 tips on
-a place for relaxation
– something that makes us feel good
– a must-have garment or accessory that should not be missing.
Then a place of relaxation immediately comes to mind the last trip I made. I went to the Forestis Dolomites, above Bressanone, a unique place in my opinion, which really won me over. The breathtaking view of the Dolomites, the unspoiled nature, the extraordinary skill of the staff in making the guest feel special … Then with the snow it's even more beautiful! Something that makes us feel good…. Definitely a good book (lots of new ones have come out), a soft blanket and something good to taste, obviously in the spirit of Italy. Of course alongside those you love! A must-have garment or accessory? Good question! A piece of the new capsule collection that will be released just in view of Christmas, created by Atelier Kore, excellence of Made in Italy, in collaboration with me. It will be called Cherie and it will be a very special collection to experience unforgettable moments during the holidays. It will be out in a few days and I can't wait! I am really delighted with this collection that has seen me work alongside Chiara Vitale, one of the Italian creative women I respect most and with whom I share the same idea of style, elegance and beauty.
So many! I am working on a very special project alongside an equally special person. Soon I will tell you more. Then I have two books in my drawer, one dedicated to the women of our country and the other to Made in Italy. Then for the new year who knows….