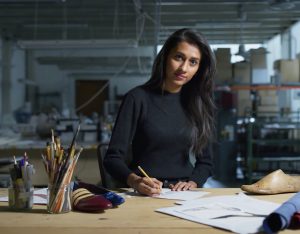 Thread creative director Thushini Fernando was born in 1993 in Kandy, the spiritual capital of Sri Lanka. She grew up showing since an early age her aesthetic sensitivity and natural creativity, bringing her closer to fashion since her teenage years. She was raised by her grand parents while her mother was in Milan, working as baby sitter for a well known family in the Italian fashion panorama. Her mother tales and the precious gifts she would receive from Italy would nurture Thushini's dream of living and be herself a fashion designer.
After graduating in 2013, Thushini moved to Milan where she graduated after a three year course at Istituto Moda Burgo, gaining top honours with an essay on Italian craftsmanship. A very formative internship at Calvin Klein completed her fashion training, convincing her to turn her dream into reality with the creation of her own footwear brand, Thread.
With a unique vision based on pure classic elegance and subtle femininity, crafted into timeless items enhanced by the best materials and state of the art details, Thushini Fernando creations are quintessentially contemporary accessories, 100% Made in Italy by the best manufacturers.