Manuela Conti by Caban is a collection of women's coat (Made in Italy) made from fine raw materials such as alpaca, cachemire or babylama.
Fabrics and accessories are produced with low environmental impact methods.
Timeless garments with soft lines and up-to-date fashion trends, enhance the elegance and femininity of every woman.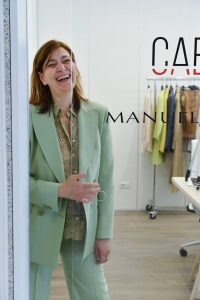 Letizia Gianfrate, Manuela Conti designer
Daughter of art, in 2018 Letizia decides to continue on her path, giving life to what, still today, is Manuela Conti. A new approach, a new way of creating fashion and conceiving the elegance of women.
Lover of a classic and timeless style, she creates outerwear with essential lines but always in step with the latest trends. A perfect mix of tradition and innovation.
Always on the side of young people, always in the constant search for quality and excellence, today Letizia sees her company engaged in a restyling phase, convinced of the fact that renewing and renewing is the winning key in order not to end up in oblivion soon.