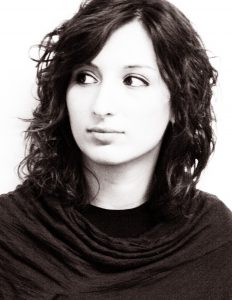 Giulia Brunetti was born in Siena, surrounded by the wonderful Tuscan hills, cradled by an engaging landscape that gives her a strong love for nature, an interest in everything that is genuinely beautiful.
Always animated by a boundless passion for design, her adventure in the world of fashion begins at the renowned International Institute of Fashion Designer & Marketing POLIMODA in Florence with a specialization in Knitwear. Thanks to his tireless desire to learn and improve professionally, after graduation he embarks on a long career and training of 15 years as a Knitwear Designer, Sampler and Production Manager for renowned Italian and foreign brands: Interfashion-I'm Isola Marras, Liviana Conti , Terre Alte, Maglificio Da Ni-She's So, Volpe D'Oro London, Cashmere Parronchi.
During these years her pure and lively passion is transformed into a solid professional path, a real journey within herself in search of her style that is deeper than her. Each garment has its own soul, a character and clearly recognizable lines, a continuous call of shapes, material colors and dusty shades that trace geometric horizons. Growing up inspired by the love for art and nature, Giulia has distilled the harmony and elegance that distinguish them as inspiration for all her creations.
In 2017 she opened the GIULIA BRUNETTI KNITWEAR registered brand, promoter of Made in Italy eco-sustainable luxury knitwear.
COLLECTION LAUNCH IN VEGAN WOOD FIBER (100% vegan wood fiber) _CLOTHING PRODUCTS IN CERTIFIED KNITWEAR
PROFESSIONAL TEACHER OF INDUSTRIAL, TECHNICAL AND STRUCTURAL SHAPED KNITWEAR
• Refresher courses for professionals of companies in the knitwear sector, in collaboration with important companies of fashion industry.
• Professional training courses for people who for the first time approach the world of knitwear.
• Advanced experimental courses where experimental knitting stitches are developed on Brother.
STYLE AND DESIGN CONSULTANT OF KNITWEAR ON BEHALF OF THIRD PARTIES:
• Proposal of collections for the PRIVATE LABEL
• Proposal of customized collections.
ACKNOWLEDGMENTS
Owner and founder of the company GIULIA BRUNETTI KNITWEAR October 2017
Winner of the 2018 CNA FEDERMODA Emilia Romagna Changes Award
Awarded_Best Emerging Female Entrepreneur from the Municipality of Rimini, 8 MARCH 2019
Associate of the "MODA IN ITALY" project for the internationalization of emerging and innovative Italian brands.