Our journey to discover women with Myclahttitude continues.
What is it? It is the natural  attitude to positive thinking, to concrete action, to the desire to do well in order to generate the beautiful and the good.
This week I met a fellow citizen of mine, a woman who transmits enthusiasm and energy at the first meeting, Nicoletta Olivieri Vice Mayor of Cattolica and Councilor for Sport, Tourism, Economic Activities and Urban Decor of the Municipality of Cattolica. I asked her, who is an emblem of it, to tell us the essence of the spirit of the women of Romagna and to reveal her secret to always look in order  from morning to 5 to evening after midnight without ever stopping even a minute from work.

da bimba con i genitori Aldo e Mara
1) Nicoletta, let's start immediately from our beloved Cattolica and from your origins. You are a Romagna DOC woman, born and raised in this seaside town. How was the little Nicoletta? What dreams did she have?
I've always been very curious to know. I was very open and from an early age already eager to travel. I owe this passion to my father from whom I took so much of my character. As a child I spent hours with him looking at the geographical atlas or our inevitable globe (over time I have had all kinds). My father solicited me by making me discover new places in the maps. He too, a great passionate traveler, has transmitted this boundless love to me. Suffice it to say that his bedtime story for me was The Odyssey with Ulysses and his constant movement.
2) Despite all the love you transmit for Cattolica and Romagna, you have therefore traveled a lot, for work and for pleasure. What place in the world or what memory do you have most in your heart?
Thanks to my passion, but also to my work as a Tour Leader, I was truly able to discover the world. Each trip, each place visited has left an indelible memory in me. The sensations that certain exotic landscapes and certain places transmit to you also depend a lot on the moments of life. For example, I have traveled several times to certain destinations that each time gave me a different feeling.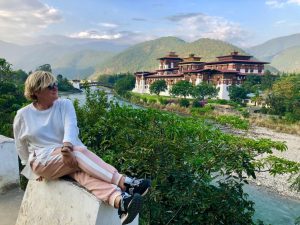 If I have to mention some places in particular, I think of the unique atmospheres of Myanmar, Bhutan of South America and of the warmth and joviality of the South Americans that so much corresponds to my nature and to the African sunrises and sunsets that are truly spectacular.
3) You are Serena's mother, a very busy woman, and not least, you are Deputy Mayor and Councilor for Sport and Tourism in a city that bases her economy almost entirely on this. Where do you take the charge to follow everything and keep your enthusiasm and the smile that always accompanies you?
I was born in August with the sun. I carry all the charge of the summer sun inside me. Seriously I have to go back to my father and the teachings I received. 'The morning has gold in its mouth' was his mantra. We went out very early in the morning and walked around Cattolica taking all the energy of a new day that was born. By nature I am energetic and positive. I am grateful for life and spontaneously find myself looking for positivity even in difficult moments. It is the philosophy of Yin & Yang that I have known and studied in depth during my travels in the Far East but which I already carried with me by nature. Just a quick hint of my being a mother too. Serena is a very smart, intelligent and unconventional woman who has always made me very proud of her choices. Together we share a passion for travel, for animals. In addition to cats and dogs, Serena has a horse that we adore and to us it is one of the family.
4) You have managed to greatly enhance Cattolica also thanks to your activity on social networks. For those who follow you, your good morning is a must with a spectacular photo of the sunrise over the sea in our beautiful town. What is your relationship with social media?
I do not deny that over time I have been able to greatly appreciate social networks for the connection speed that they undoubtedly favor. I have friends literally on the other side of the world and thanks to social media we hear each other practically every day and we are connected and updated. This, together with the possibility of receiving constant information in real time, for spontaneously 'social' people like me are certainly the positive side of social networks and the web. I don't like haters instead of which for obvious reasons I prefer not to talk.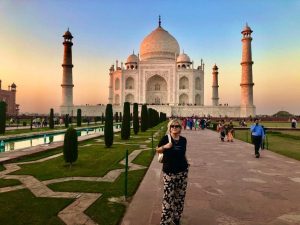 5) In recent years, great steps have been taken towards women's empowerment and gender equality. I would like to know: how has your experience as a woman holding a position at the top of the city council been until now?
My experience as Councilor and Deputy Mayor has been and still is for me a constant opportunity for growth. When the Mayor Mariano Gennari involved me, I realized that I would have great responsibilities but that I would be able to put all my passion and my skills at the disposal of this position. I have to admit that I experienced difficult moments as it's normal but I tried to react without losing heart. As far as my work is concerned, I have not noticed any distinction between genres. The various offices in the council are held by men and women. It is the skills and personal experience that really make the difference.
6) Let's go back to your style. Hair and make-up always in order, the right look at the right time. Yet it seems you don't have a moment to stop. Do you have a secret for this?
I don't follow trends, I've always had my own style. I can wear a piece from 20 years ago, if I still like it, just because I like it regardless of whether it's on trend or not. I have never really loved make-up and only recently I am  appreciating the habit of a little lipstick. Surely my basic look is black but always with very bright touches of color given by the accessories. The real woman in style was my mother, a great woman I lost just this year, on the first day of spring. She taught me to face difficulties without losing heart.
7) The full program of activities and events that will take place in Cattolica has recently been presented. Practically every day and every evening unmissable events have been scheduled. Do you want to talk about it?
This year marks the 750 years since the birth of Cattolica and a beautiful calendar of events was presented for the occasion. The culture office has worked hard for the historical part. As for the tourism program, I am really happy to have had the opportunity to schedule events and shows of great resonance, also given the pandemic situation we are emerging from. I mention only some of the artists who will perform in Cattolica: Patti Smith, Venditti, De Gregori, Bersani and many others of the same caliber. The event program is available on the official website of the Municipality.
8) Finally Nicoletta my usual question: what are your plans for the near future?
Pursue my goals and let myself be surprised by what unexpected can happen to me in life.