Our #MYCLAHTTITUDE Ambassador this week is Elena Barolo, a woman full of energy and sun. She left her beloved Piedmont hers after her, when she was very little, she won a contest to participate as a co-star in a well-known television show. I loved interviewing her because we have exactly the same way of seeing things and we face life with the same attitude. Half an hour of really nice talk in which Elena talked about herself with all her spontaneity. She now has new projects that are about to come true and very clear ideas about the spirit with which to face this difficult moment.
Discover them with us in the interview and enjoy your reading.
Claudia gatti
D: Elena you are a woman who conveys joy and a sense of goodness. Tell us a little about how you were as a child, what dreams did you have?
A: I was a sunny and joyful little girl who loved dance. A little shy but full of the desire to socialize. In particular, I had a vivid imagination and a lot of fantasy. I spent hours fantasizing and I'm very happy because growing up, I never gave up on this side of my personality, on the contrary I was able to cultivate it. My fantasy has helped me on several occasions in dealing with the unexpected things in life. Those who have a lot of imagination always manage to reinvent themselves, I learned it growing up.
D: You grew up in beautiful Turin then, little more than a teenager, your first job brought you to Milan. You changed your life in a very short time. It was a strong and sudden change. Do you want to talk about it?
A: I had just finished my studies at the Liceo Classico San Giuseppe in Turin when I decided to try to face the selections for the Mediaset 'Veline' broadcast for the election of the new showcases of Striscia la Notizia. Thus, a teenage dream became reality because I won the competition and moved to Milan overnight. I started a new life, very busy every day, first with Striscia then with Cento Vetrine and so on. For my work, living in Milan is very comfortable and over time I have learned to love and appreciate this dynamic and trendy city. In any case, I always return to Turin to visit my family, after all it is only an hour's drive.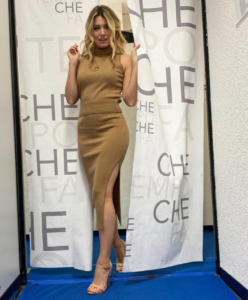 Q: We know that the experience in Striscia la Notizia has also created a very strong union with Giorgia Palmas. Even today you are great friends and you share moments of life together. How important is friendship to you in your daily life?
A: Friendship is essential. I am fortunate to be able to count on Giorgia's friendship and to be able to share small and great joys with her. Giorgia has also chosen me as her wedding witness as soon as they can be celebrated and I am really proud of this. We met when we were very young, both non-Milanese and we supported each other every day for the entire time in Striscia. Since then we have been very close. Apart from Giorgia, my closest friendships date back to my Turin life. There is Sabrina whom I met in elementary school and she is my closest friend today also my accountant. Then my super friend Francesco also met at school, who is a doctor and who lives in Papua New Guinea. Obviously we see each other very little but luckily we feel very often with facetime.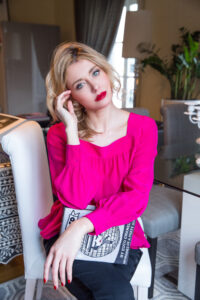 Q: You are very social, your Instagram profile has over 280,000 followers. You are followed and much loved. What relationship do you have with social networks and with your followers?
A: For a person like me, a lover of sociability in all its forms, social networks have represented a splendid opportunity to relate to a wide audience. I interact a lot with my followers and I always try to instill a message of optimism. I try to be as spontaneous and true as possible because I love to show myself in my true nature. Discovering yourself as it is obvious also exposes you to criticism. I have often been accused of lightness and superficiality because in my posts I smile and joke a little with my followers. But it's part of the game, we social people know that visibility also brings with it effects that are not always positive. On the other hand, however, the affection that I receive every day from my followers, who have learned to know me, pays me back a lot and encourages me to show myself as I am and to continue responsibly to communicate all the positivity that is always needed, especially in this. moment.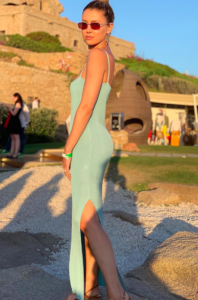 D: You know that on Myclah we talk about made in Italy fashion. What is your relationship with fashion? Do you have one or more items that are never missing in your wardrobe?
A: My relationship with fashion is quite unique. I have loved her since I was a child, when I followed my mother, an elegant and always à la page woman, in her shopping tours for the Turin boutiques. As a child I devoured my mother's fashion magazines Elle, Vogue, Marie Claire. I've always loved bright colors so much because I find they represent me. Since I was a child I have been so passionate about Versace, its bright colors and beautiful prints. Growing up then I developed my own personal taste. I love fashion and I really appreciate Italian designers but I have never been very classic in my choices. I gladly mix the garments and I am quite original in the combinations. In short, a lot of fashion but not a victim. In my wardrobe, however, a must have is my inevitable tuxedo and my many white shirts of every style. The garment I'm most fond of, however, is a black Alaïa dress that my father gave me.
D: A little curiosity: We see you serene and the excellent relationship you have with yourself and with others I would say that transpires without misunderstandings. Which side of your personality do you prefer and which side would you like to change?
A: I am a very sociable and cheerful person and this is a rather innate side of my character, which I really appreciate very much. As for the dark side, I'm trying to change the fact that sometimes I'm a bit standoffish. For example, I leave very excited to attend a certain fitness course and for a week I don't think about anything else. Then comes Saturday and I've already changed my mind. I'm working on it.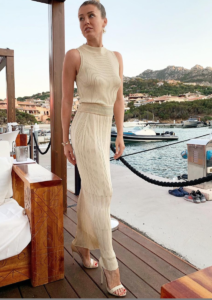 D: We leave the last question for your future projects. What do you have in mind for the next few months?
A: Right now I have a top secret project that should materialize right now. I also continue with my collection of handmade cashmere in Italy 'Cachemire Ballerina'. I'm working on the launch for the site and the new collection. Last but not least and always to smile a little: follow my poodle Whiskey champion of sympathy on his social page @whiskey_barolo. After all, ours is true love.