Ciao Italian Style lovers, in this moment traveling is complicated. So we asked one of our friends, , Veronica Tordi, to tell us a bit about her marvellous city that exactly in this period of the year becomes sparkling. We cannot travel but we can dream and also note down for our future next trip.
Enjoy your reading.
Claudia Gatti
10 stops in New York.
What to do and what to see during the holidays in the city that never sleeps New York is certainly one of the most evocative and fascinating capitals, I have been lucky enough to be able to call it home for several years and over time I have discovered little places that really make me feel at home.
The offer of restaurants, bars, festivals, entertainment, shows and shopping is almost endless: so today I take you to see my favorite places and especially those that have become real rituals! We start with breakfast in one of my favorite cafes in the East Village, and then walk up to Union Square, Gramercy Park and Midtown. But it won't be over! Get ready because we will walk a lot, we will reach the Rockefeller center and even on a magical and bright island.
Stop 1: Madman Espresso
54 University Place (9th & 10th Street)
Mon-Fri 7:30 am-7pm Sat-Sun 8:30 am-7pm
My journey begins with a good coffee, and strictly Italian style! Madman Espresso is a super cool and very "local" café frequented by students, professors and freelancers who gravitate around the NYU office in Greenwich Village.
WHAT TO TASTE: an espresso, hot and steaming and the friendliness of Marco (one of the founders) that really makes us feel as if we were in a bar in Italy.
Stop 2: Christmas in New York
Now that we have done the first ritual of the day, we can venture out to discover the city! From Greenwich Village you walk through a maze of small streets, with English and Dutch houses from the late nineteenth century. We are in Downtown Manhattan, the atmosphere is very relaxed and much more intimate than the glass buildings of Midtown. Turning the corner, we arrive in what still represents a cornerstone of Italian culture in the Big Apple: Little Italy. Here is one of my favorite shops! It's called Christmas in New York and you can find Christmas decorations throughout the year! A real paradise for Christmas lovers. For the lucky ones: you can have a chat with Mum Claus and sip delicious hot chocolate!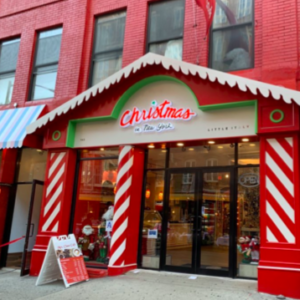 Italian traditions… in the Big Apple
Little Italy was immediately one of the most fascinating neighborhoods for me. In the area that is called Lower Manhattan, therefore the South area, the first Italian immigrants formed a community and allocated their first dark, small but hopeful houses. Often illiterate, disoriented and without the possibility of interacting with Americans, the first Italians who managed to arrive in the Big Apple found in their compatriots a first anchor of safety. Someone to help them find a job, maybe as a hub or laborer down at the Port. In a short time, Little Italy became a real detachment of the motherland in NYC: it still remains a very strong Italian influence, even if the restaurants and businesses are no longer run by Italian families. There remains the fascination of the more or less fulfilled dreams of those first emigrants, full of hope and looking for a better future.
CURIOSITY: the patron saint of Little Italy is obviously San Gennaro, a very heartfelt party! Which involves all Italian Americans and which sees sellers of Zeppole, chops and meatballs gathered under tricolor lights – united to celebrate the saint and a strong – very strong – Italian culture.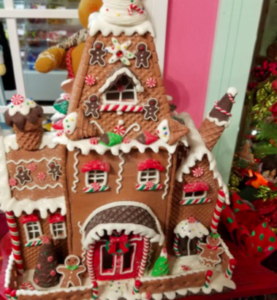 Stop 3: UNION SQUARE CHRISTMAS MARKET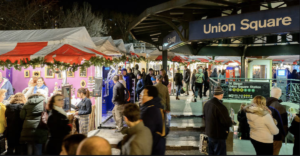 Where: 14th street between 5th and 6th avenue.
What to do: get lost among the wooden houses of the artisans, get to know a thousand unique products and let yourself be carried away by the magic of the spirit of Christmas Going up 5th avenue and passing Tompkins Square Park, the streets begin to become wider and airier. Passing through the East Village (a district that in the 80s and 90s saw the birth of underground clubs, fashions and trends, we arrive at Union square. Nerve center for New Yorkers, who just this evening find a place for refreshment, play and entertainment.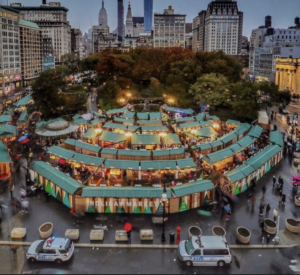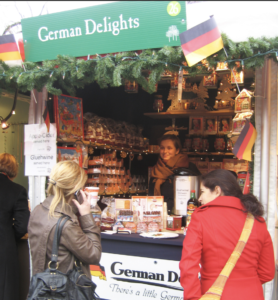 Stop 4: lunch at EATALY
Eataly is a true paradise for every Italian in New York! In some moments nothing can cure the lack of home like typical products – very fresh – that bring us back home for at least a few minutes.
What to do: I recommend ordering a spritz on the top floor terrace and sitting at a table under the magical ceiling fully decorated for the holidays! In fact, the Serra restaurant changes its decor according to the season, with its large and bright skylights that overlook the New York sky. A real unmissable show. I often indulge in some delicacy like a platter of highly selected Cured Meats and Forages, often really hard to find in NYC.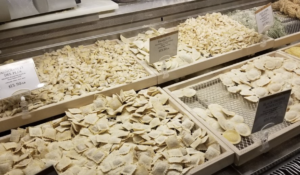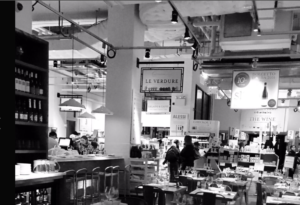 Stop N. 5… th avenue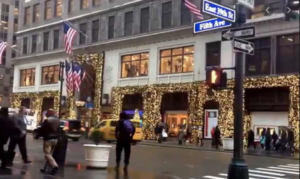 FIFTH AVENUE (Fifth Avenue) becomes the real street of the Christmas struscio! It is decorated for the holidays and becomes a real artery of shopping, fashion and nightlife.
WHAT TO DO: I love to walk with my nose up and admire the shop windows! Especially starting from the Flatiron District, through Midtown, Bryant park with its coffee tables full of brokers and bankers sipping Starbucks coffee.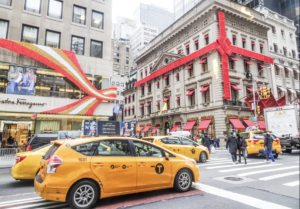 Rockefeller center, Sak's and the light shows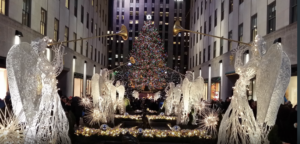 Saks Fifth Avenue
Let's continue the discovery of 5th avenue, admiring the shop windows and the sparkling lights of the city! To warm up from the cold we have a Tall Latte (which would be a sort of macchiato but very long, and certainly a hot cup in hand is very pleasant in the intense cold of NYC during the month of December). We leave behind Bryant Park with its markets, the Public Library – a real jewel of Art Nouveau architecture and go up to Fifth Avenue. Impossible not to see the Rockefeller Center in its magnificence, and immediately in front of the palace of Saks all decorated for the party! The entire façade becomes a sparkling show, with perfectly coordinated lights, music and sounds – New York, New York by Frank Sinatra spreads through the air, to be danced and hummed along with other passers-by.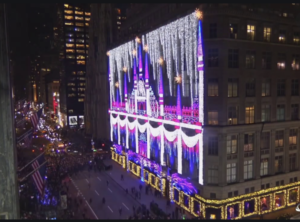 Rockefeller Center – A city monument
If you say Christmas in New York, you can't help but think of the rockefeller center! A complex of buildings created for commercial and representation reasons, today they represent a real landmark for NYC. The tree-raising ceremony is a real ritual for New York, which celebrates the beginning of the Christmas period.
What to do: Ice skating in the Rockefeller Plaza complex surrounded by city lights.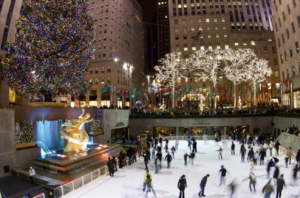 Aperitif on the seventh floor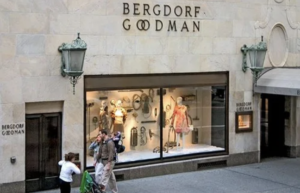 B&G is my favorite department store! I really love the Art Deco furnishings and the selection of contemporary and international designers. Many Italian brands have affirmed their status as luxury brands thanks to the consecration in places like Saks, Bergdorf and Neiman Marcus. On the sixth floor there is a very current selection of designers – from 1980 to today – and above all all the most recent accessory collections by American and international designers. Going up one floor you reach the Seventh Floor, with a beautiful panoramic view of Central park. A champagne is a must to celebrate the festive period! Strictly seated at the white marble counter of the bar, like a real New Yorker who stops to take a break between one errand and another.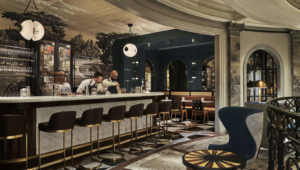 Stop N.8 LUMINOCITY FESTIVAL
The Festival of Lights
WHERE: 20 Randalls Island Park, New York, NY 10035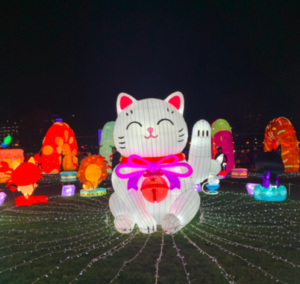 Christmas lights and lanterns are a magical thing in themselves. But a real theme park, entirely populated by magical enchanted creatures, giant and colorful donuts and unicorns of lights: well, that's something else! Luminocity is just that. A fairy world that becomes real, and you can walk through real villages of entirely hand-painted lanterns. Cascades of flowers, lights, dinosaurs and castles populate this small but enchanting island just outside bustling Midtown.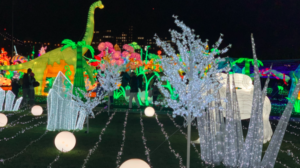 Stop n. 9: Rol'f German Bar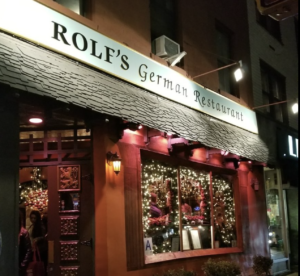 The festival of lights is truly beautiful and magical, but in fact, the Christmas atmosphere is also very cold in New York! Leaving Governor's Island and returning to the island of Manhattan, you can warm up in one of the many bars in the city! One of my favorites is undoubtedly Rol'f German Bar: a real triumph of decorations, lights, fake snow, Christmas balls – the wonderful thing is that the bar remains decorated like this all year round.
WHAT TO DO: Taste a delicious hot mulled wine at the counter and let yourself be carried away by the magic of the holidays for the most nostalgic for Christmas, who can breathe a festive atmosphere even in summer.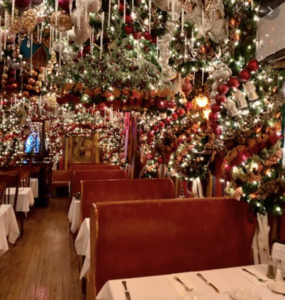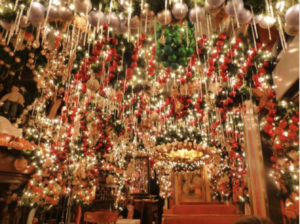 Stop n. 10: Opera al Lincoln center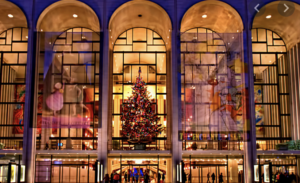 Lincoln Center is the center of cultural life in New York. Many European artists have passed through here, especially during the years of the Second World War. Toscanini found shelter and fortune in Lincoln Center for many years, becoming irreplaceable and building his international fame. The day can end right here, in a place that has celebrated and still celebrates Italian culture in all its forms: Roberto Bolle, Fellini, Rossellini, Verdi are just a few. My favorite… the troubled love affairs of Violetta nela Traviata di Verdi, played by Placido Domingo.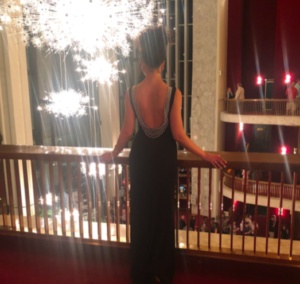 Veronica Tordi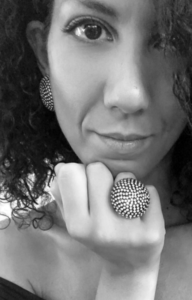 Veronica Tordi was born in Italy or better in Romagna as she likes to say, form a family of accessories and jewels artisans. As a kid she was always in love with her father's creations. Growing up, after many years spent with her family in the laboratory,  Veronica decides to launch her own creative jewellery collection. The momentum in reality comes after she moved to New York, where now she lives since more than 10 years. Being far away from her land made even more sensible her creativity and her appreciation towards Made in Italy . Her coloured collections of earrings , necklaces and rings remind of the Italian sun. Veronica guides us into her personal New York with her smiling eyes of a real Romagnola.
In New York with this look!