Ciao my Italian style lovers, You probably already saw some posts on our socials about beautiful Sicily. We took our first plane after lockdown and everything was just fine.
Safety mask always on, hand sanitising , punctual flight so definitely a good start. Ancona – Catania and in one hour we were in paradise.
Right , you know Taormina , where we stayed  for two days,  doesn't need too many explanations. Its historical beauty and its landscapes made it famous worldwide and, even if we were there before, we let ourselves be amazed by the breathtaking views overhanging the sea and by the very characteristic spots walking around the village.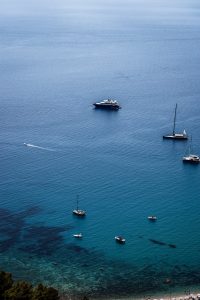 The hotel where we stayed (Mendolia beach) offered every day dawn and sunset on Isola Bella with  a breathtaking panorama from our room's small balcony.
We suggest this hotel for those who prefer an amazing panorama and easy access to the  beach rather than all comforts of 4 or 5 stars hotels that aren't near the beach but up in the main village. Speaking about 5 stars we visited Belmond Timeo and just enjoyed the beautiful terrace overviewing the coast up to Etna vulcano and said ciao to our friend Alberto who runs a small cute boutique inside Timeo with a superbe offer of very refined and niche made in Italy RTW.
Our exceptional host for these two days was Laura,  founder of PESCEPAZZO bags. We worked together in an amazing location and scheduled the activities for next launch in September on MYCLAH. Laura brought us  also in some unique restaurants with super fresh fish  ( first evening  dinner was at Nino in Letojanni, traditional seaside restaurant with a view on illuminated Taormina)and also brought us to know Bambar, most famous artisanal Granita  with tuppo maker and of course we took a pic with the super cool , multilingual owner Saro.
For an original present idea we recommend a visit to the Made in Taormina perfumes boutique 'Aria di Sicilia' located on the main street (Corso Umberto) or to pay a visit to Mood boutique where the eclectic owner Paolo proposes refined vintage fashion items along with very updated trendy clothing.
We spend a few hours at the beach and had a coffee in the historical Mendolia beach bar. Later  we visited the very small Isola Bella and we found ourselves surrounded by a tropical garden.
On Tuesday morning we moved to  Acireale a baroque village. Before starting our business day we enjoyed a coffee and some delicious 'minne di sant'Agata' at Pasticceria Costarelli located just  in front of the main baroque square. During the morning we met Tina and Saro who run the Le Panier bags,  a very modern leather goods laboratory that collaborates with some of the most important international fashion brands ( we just mention one for all Brunello Cucinelli) with its head office in a superbe ancient baroque building which makes the visit itself an experience. The occasion was good also to meet talented creative  with Sicilian origins Federica Cristaudoand  to set up with her last things before our launch of her creations on MYCLAH. 

CATANIA a city full of history, the center holds treasures to see and taste!
From baroque to small lanes full of life like Via Santa Filomena which in a few years has turned into a chic destination for Catania evenings.
Do not miss a walk to the Pescheria, among colors, Sicilian sayings and romantic songs, and then go to Piazza Duomo where you can admire "U Liotro" …
We say bye to Sicily and its colours and we are ready for a new adventure to discover the Italian lifestyle.  Viva l'Italia