Mirna is an energetic and shiny woman and a pioneer of one of those 2.0 jobs that are becoming more and more popular: Homestaging. What is it? Mirna tells us about it and in this interview she let usa know a little more about their beautiful story of her life
Enjoy the reading
Claudia Gatti
– Mirna we met as adults taken by our projects and full of ideas and good intentions to improve. But tell me, what was the child Mirna like? What are the most important moments of your childhood that you carry in your heart?
Mirna as a child was very different from what she is now… since I was a child I have always been reserved and very closed, I would say hermetically! I was ashamed to say my name, to talk to people and I always turned with my head down, so much so that my parents tell me that I recognized people by shoes! I grew up in a family on the crest of the wave, so the house was always full of journalists, photographers and characters who gravitated to the music scene, practically unknown to me and I, with that closed character, suffered enough from the situation.
I never thought even remotely that one day I would speak in public, that I would go on television, in Rai, live or that I would hold training courses in front of unknown people. Sometimes life surprises us, suddenly changes course, tests us and makes us discover sides of ourselves that we did not know. And it is important in those moments to take the opportunity to change and not hide.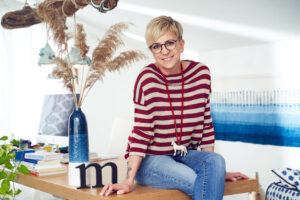 – Your family, Casadei, can easily define itself as a Clan alla Romagnola. When you move all together you convey a sense of strength, solidity and joy. How can these cornerstones of Romagnolity be transmitted today?
The roots are very important to face the world in which we live, they are our identity and our uniqueness. Until a few years ago (I would say before the advent of the internet), people lived a more human-sized dimension, they dreamed a lot, they wanted things, they let their imagination run wild. Not everything was immediately available and everything was as accessible as it is now. The dream, the desire, the curiosity still existed. To find out about a foreign country you wanted to visit, you had to leave the house, go to the bookstore to buy a tourist guide, talk to people who had already been there to get advice and suggestions. Now all this has been replaced by a click on the smartphone on the sofa in our house. Everything is more comfortable, of course, but human contacts have disappeared, it is no longer necessary to work the brain and imagination, every expectation is already revealed, there is no longer the surprise, the adventure. When we go to that country we will already know how to get around, we will already have public transport tickets before leaving home, we will have already booked a place to sleep and to eat, depriving ourselves of a million opportunities to interact with people. This is just a small example but it can be applied to all aspects of our life.
The Casadei family is a compact nucleus that faces life with joy and lightness and that tries to enjoy the moment and the simplicity of the little things. Our parents have always transmitted to us the love for people, always being well disposed towards others, being grateful for the little everyday things, collaborating and forming a team. And then fairness and respect: in my house I have never heard anyone speak ill of anyone, judge or gossip. And the three of us children all grew up with these unwritten strict rules, never preached, but only transmitted through daily example.
– At a certain point in your life, after so many years spent in communication and promotion of the family business, you had the urge to change your life and follow what was your true vocation, tell us.
The passion for furniture was born in the period when my mother was building a new house. We are talking about 19801 and I was in middle school. I was always with her around furniture shops. She chose and designed together with the experts, while I wandered around the showrooms, losing myself among the set-ups, pausing to look at an armchair, observing the lines of a chaise longue, touching the upholstery fabrics and being enchanted by the light designs of those splendid lighting bodies. of design. Growing up I have always worked in the family business, the Casadei Orchestra, dealing with everything related to the image: photos, videos, looks of the musicians on stage, sets … always and only remaining behind the scenes. Sometimes someone would say to me "ah, are you there too? I thought Raoul only had two children! ". And instead we are three. This gives the measure of how much I hid myself from the eyes of the people.
When I became a mother, at 42, a transformation took place in me. For a rational person like me, who always wanted to have everything in order and under control, the moment of delivery was a shocking experience. Like Sigourney Weaver in the movie Alien, who feels a stranger move inside her belly, who eventually takes complete possession of her body and she is no longer in control of anything! Having successfully passed that titanic test, my self-esteem has finally awakened! I would never have believed I would be able to overcome that event, and from that moment I began to see everything from a different perspective. I said to myself "but if I was able to do this, what should I be afraid of in life?" and from there I took off.
I discovered Home Staging in 2013 thanks to an acquaintance of mine from Emilia. When he explained to me on the fly what it was, I decided, at that precise moment, that this would be my job.
From being precise and demanding with myself as I am, I started studying and training myself. I attended the best courses, I invested, I sought inspiration from the greatest, I signed up for updates and insights of all kinds, some even apparently not exactly relevant, but from each of these courses I learned small but fundamental details and found decisive ideas. And then in the courses I met many people in change, in evolution. Caterpillars that were about to become butterflies and this has charged me a lot.
In my work and in building my network, I have always focused a lot on the quality of relationships, on listening to people, understanding their needs and working hard to solve their problems. The greatest satisfaction is not taking home a signed contract, but relieving people of their problems by making their work easier. I like to work with my clients as a real team, working together to achieve a common goal that brings satisfaction and benefits to both.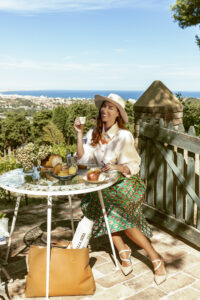 – Home staging: we have learned this term recently because we can define it as a relatively new job here in Italy. Can you explain better what it is?
Just think of its literal translation: "Home" means house and "Stage" means stage. In summary, it means staging a property. The home stager is a real estate development professional and takes care of preparing a property before it is presented on the market for sale or for rent. The target? Make people fall in love with the house and sell or rent in a short time, defending the price. In practice: if you do not take care of the presentation of the property, the perceived value will be low and to sell quickly your only option is to lower the price. If, on the other hand, you value the property, present it in a way that attracts attention, makes it beautiful, elegant, bright and charming, the buyer will fall in love with the house, think "I want to live here" and the price will not be a problem. The house is par excellence an asset that is purchased following an emotional impulse. Just think that the sale of a property is decided in the first 90 seconds of the visit!
I am a specialist in transforming home environments with reduced budgets and I can apply this to all the services I offer: home staging, re-looking of private homes, restyling of hotels, bed & breakfasts and apartments for tourism. People dream of looking at the beautiful houses they see on Instagram or Pinterest and they don't know that it doesn't take a lot of money to have houses like that: it just takes good taste and expertise. And a home stager has very broad and transversal skills: composition, use of color, decluttering, feng shui, knowledge of materials, light, photography, scenography, etc …
In addition, thanks to my experience in scenography, I also take care of setting up photo and video sets (and this was precisely the occasion on which we met!).

– We see you on TV on Rai2, around Italy for your work, you organize courses to train new home stagers, you dedicate time to your social channels to keep in touch with your followers but you are also a mother and have a partner. Do you have a secret that you want to reveal to us to be able to do everything without going into the ball?
We women have unimaginable resources (sometimes I would say superpowers)! When I meet the people who follow me on social media they tell me "but how do you do all those things?". There are two secrets: I love my job, I have a great passion and this is the engine that makes everything move at the right times and with good results. And then there is also my experience in the family business: when you work in the world of entertainment and entertainment there is no Saturday, there is no Sunday, there are no holidays, indeed, holidays are just those where you work more! So I never looked at my watch or turned down a meeting or an opportunity because it had to be done on a public holiday. For me, one day is worth the other. Do you know what my dad always says? "The starlings must be thrown when they pass" (pulling in Romagna means to shoot), that is, opportunities must be seized when they arise, because if you postpone them to the first working day on the calendar, in 90% of cases "puffff" disappear!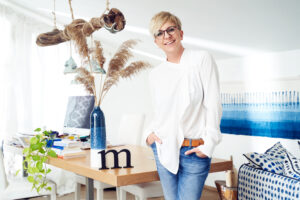 – As you well know, since you have been of great help to me with your work as a set stager for our advertising campaign, MyClah is a lifestyle and fashion site. What relationship do you have with fashion? Which garment can't be missing from your wardrobe?
I'm a fan of jeans, I have dozens of them and I wear them all! I like to combine them with sneakers and oversized sweater, with décolleté and jacket, with gritty ankle boots. But above all I love to combine them with a cream-colored silk shirt: it's practically my uniform!
I have never wanted or had designer clothes, except in very rare cases, but at the same time I can't stand imitations. One thing I can't look at? Women who, in order to follow the fashion of the moment, are embarrassed, not valued. For some years now it has been the boom of high-waisted trousers with pleats and squeezed waistband and is a fabulous model if you have a slim waist and are slender. But if you are 1.60 tall and have a belly (like me) you risk looking like the accountant Fantozzi with his underarm pants. Well, I don't like following fashion at any cost without taking into account one's physicality. I prefer to find my style, wear only what makes me feel good, that enhances my proportions, practical but with an elegant touch.
I want to tell you an episode. Once, when I was just over 18, I found myself in Milan walking downtown with a stylist who took care of the musicians' uniforms. One with a lot of taste. That day I was wearing jeans and a padded denim jacket, you know the ones with white fur inside that were fashionable in the early 90s? Here, that. At the foot a pair of white Superga. He took me for a walk in via Montenapoleone. At the time it was really the living room of Milan and classy women paraded on the sidewalks, beautiful and well dressed, well-kept and impeccable, with their arms full of bags of Versace, Armani, Chanel. I looked at myself and felt out of place, unkempt. The designer told me: "Do you know why I brought you here? To embarrass you a little and to make you understand that in the morning when you get dressed and go out, you have to dress so that you are comfortable in every situation: a walk in the park, a business meeting, a trip to the supermarket, an aperitif with friends, a dinner in a classy restaurant ". He was right. From that moment on, I always try to adopt a look that makes me feel confident and at ease first of all and that allows me to never find myself embarrassed and out of place. And to hell with the fashions of the moment!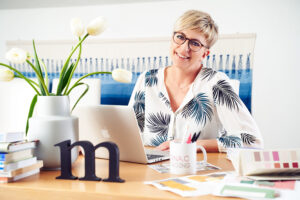 – Finally: what are your plans for Mirna for 2021?
So many that I, who have always loved the weekly diary, had to choose a daily one for 2021 because otherwise I would not have had enough space to write down all the commitments and projects I want to develop!
I anticipate some projects: to continue my relationship with Rai Due with the broadcast Detto Fatto always looking for new tutorials to offer, to dedicate myself even more to training courses that in 2020 (despite the strange year) got off to a great start. I built these courses to become home stager by putting all of myself, my experience, my successes and my mistakes, my strategies, my past in the field of communication … They are really rich and complete courses and women from all over Italy enroll. (but sometimes also men) who want to turn their passion for the home into a real profession. I follow my trainees even after, once the course is over, to help them leave and encourage them. The greatest satisfaction is that the girls who come out of my courses immediately start working profitably!
Another project is my own broadcast on a thematic channel that talks about home, how to create the right atmospheres, how to transform environments. I have already written two program formats of this type and I am looking for the right contact to propose them. It's my first goal of 2021.
I also designed a decorative piece of furniture for the home and I'm making it in collaboration with another volcanic woman, who is an artisan with golden hands and has an open mind like a parachute. Our project is to commercialize this idea and see it one day in all homes. Of course I can't anticipate anything yet but, who knows, maybe in 2021 it will be on sale on MyClah!
I anticipate another project for 2021. It is a project I really care about, postponed due to the pandemic, which I hope to start soon: I proposed to the IRST in Meldola (the Romagnolo Institute for the treatment of Tumors) to redo the look of the waiting room of the oncohematology department of the Bufalini hospital in Cesena (under the responsibility of the IRST). Every time I pass by, I feel sadness and a sense of abandonment. It is a non-place, a place of no one and of which no one is concerned. Instead, I would like the sick, who are already experiencing a very difficult and delicate moment in their life, to be welcomed in a beautiful living room that transmits well-being and beauty to them, reassures them, makes them feel better. The environment that surrounds us influences us to unimaginable levels. To carry out this project, completely pro bono of course, I intend to form a work team of home stagers, interior designers, color experts, feng shui experts, psychologists. The project is to meet at regular intervals and discuss, create, design. All of course communicated with direct social networks to involve people and to give visibility to those who will participate in the project as a charity. As for the material that will be used (furnishings and accessories), I would like to involve companies in the Romagna area and make a great collaborative and shared project. The people of Romagna for Romagna. When I went to Meldola to present my project to IRST executives, I saw the enthusiasm in their eyes. Do you know what they told me? "Let's do it and hope it becomes contagious!" A beautiful project, already approved, which was only temporarily "parked". As soon as we free ourselves from this pandemic, I will immediately start with the practical part. If I manage to complete this project it will be the best "before and after" of my life!
Our selection inspired by Mirna