Hello Italian lifestyle lovers,
where do we take you this time? In the wonderful heel of Italy, Puglia. A magical land, a land of sea, sun, dances and parties. A treasure chest of flavors, a container of perfumes, a forge of talents, a paradise of beaches and ancient villages. You got it right, villages, because Puglia is a place to be lived all year round.
And we could get lost in telling you about this infinite land that extends for miles from north to south, presenting landscapes and characteristics, at times, so  very different from each other. But it is in order not to get lost that I dwell on a particular area and, even more, on a city. We arrive in the Itria Valley, the beating heart of the region and home to Trulli , farms, good cuisine and strong traditions. Today as it once was.
Crossing the Itria Valley, is in the pearl of the Adriatic Sea that we want to take you : Ostuni , exactly halfway between Alto Salento and Valle d'Itria. This town ( about 35,000 inhabitants)  is now known at most as the White City, for the characteristic color of its houses painted entirely with limestone. And it is precisely from those houses and alleys of its historic center that we want to begin . Our tour starts now! What will it be about? Obviously, being in Puglia, we can only tell you about food. The best, most beautiful, healthiest and fairest there is.
Together we will discover the best restaurants in the city, or at least those where tradition married innovation and together have created something unique and special.
Osteria del Tempo Perso
One of the most renowned and historic restaurants in the White City located in the heart of its Historic Center. The restaurant, born in 1983, is made up of different environments – for some years now also a terrace where dining under the stars is something unique, magical and special – created in the millenary rock of the old village. Real caves dating back to the 1500s left mostly intact, inside which tasting traditional dishes becomes a mystical journey. A 360-degree experience that manages to capture and conquer all five senses.
La Taverna della Gelosia

A painting painted among flowers, leaves but above all excellent cuisine.
La Taverna was born in 1995 between white alleys and suggestive terraces, between the love of those who created it and the joy of all those who have been there.
Time has passed, dishes have been studied, changed, tasted and reinvented, "but the pink pepper, the wisteria, the bougainville are still there, shading and refreshing the tables, even on the hottest days". To warm the heart of those who have lunch or dinner.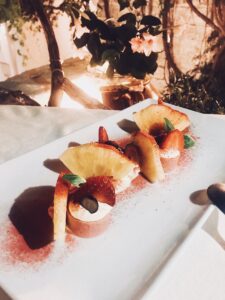 Dish Ostuni Restaurant
The most innovative of all, where living a true all-round food experience is a matter of course.
This, more than a restaurant, is a laboratory where taste harmoniously blends with flavors, making the proposed cuisine unique. A welcoming, modern location, with a unique panorama and such a young and qualified staff.
What is so special about these places that we have just listed? Here each dish is a painting, so beautiful that you can taste it first with the eyes and immediately after with the palate.
These are just some of the thousand places where, in Ostuni, you can eat well, traditional albeit with some small, right innovation. Not to mention the many, too many shops that churn out local products at all times, filling the alleys of the historic center with a good smell that cannot be explained. Breads, focaccia, taralli, monachelle, biscuits, mostaccioli and so on, always passing through sweet and savory.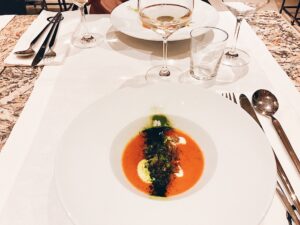 And so, through the old streets of the White City it is possible to let yourself be carried away by the scent of coffee mixed with that of laundry in the morning, and then continue with sauces, fried and baked at all hours of the day.
What is this village if not a treasure chest of Love? Because here, everything  comes first from a strong act of Love.
Giorgia Capriglia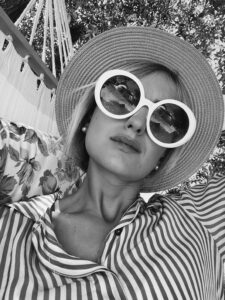 Born in Puglia and Milanese by adoption, with a strong passion for fashion, travel and everything that has to do with creativity. After a master's degree in Fashion Promotion, Communication & Media at the Marangoni Institute in Milan, today Giorgia works as a content creator, strategist and press office for some companies, as well as having invested in herself with various personal projects. Social media expert and event planner, a few years ago she then decided to leave THE CITY to return to her South and grow even more together, because who said that to gain experience you only and necessarily need the North?