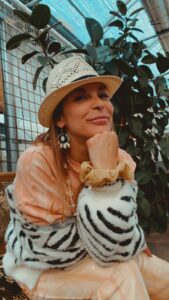 If I have to describe my life I'd compare it to one of my necklace, a colorful chaos that eventually finds harmony.
A sparkling harmony which melts together my italian roots, a gipsy soul and a never ending research of aesthetics.
Ciao, my name is Federica and I was born and raised in Lake Como where my family owns a holiday resort.
I believe it was the constant in touch with worldwide summer friends and guests that always led my attraction towards the exoticism or, allow me, l'etranger.
At a later stage, my studies, my first job experiences, my happenings and the different places I had the chance of calling my home, were always at a distant and scattered around the world.
Never the less, the world of fashion and style always had a sort of rebound on me. My great granny was a lace dress maker and on the other side my mother started as a textile designer soon to be moved into the hotellerie. Considering my favourite games as a small girl were styling and dressing up my friends while playing fashion shoots and filming catwalks, not much is left to say. Oops, I forgot to mention, impromptu fashion games pretended to be in the island of Bora Bora or New York City to name a few.
Then Allegra stepped into my life and brought me back to my first home. DiAllegra, was born by chance, firstly as a game, for fun and dictated by a small girl hunger to create. After spending a summer in Alassio with a dear friend of mine making crystal beaded earrings and marvellous crochet bags, my young daughter Allegra came back home and asked me to craft bijoux together. This is how it started, and voila' explained the name of my brand DiAllegra.
Every peace is born and handcrafted in Lake Como, materials sourcing comes from all over the world. This mix, this chaos, is what lies within the sould of the brand.